Exploring pollutant concerns from lead to emerging contaminants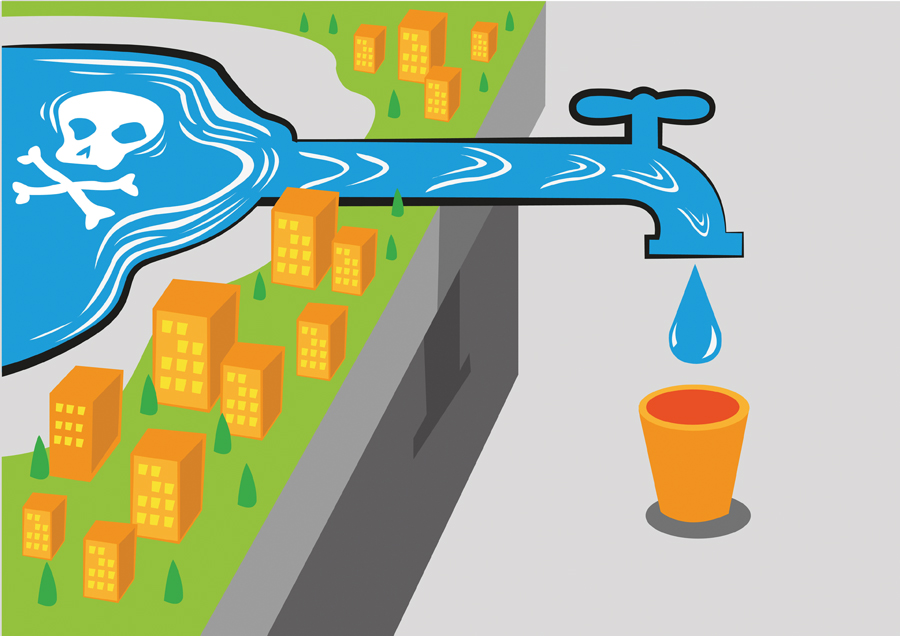 Water pollution has become a hot topic since the Flint, Mich., water crisis was revealed earlier this year, and many other contamination concerns have surfaced in the following months. The water contamination-related headlines seem endless: "Toxic chemicals in drinking water for six million Americans," Fox News, Aug. 9; "Scofield cyanotoxins now polluting Price River," The Salt Lake Tribune, Sept. 2; "Water Works finds microcystin in system," The Des Moines Register, Aug. 3. The facts remain: Climate change coupled with aging infrastructure and agricultural runoff have resulted in unprecedented problems with the quality of tap water in the U.S. and abroad. 
Additional Contaminant Concerns
Emily Cassidy, a research analyst for AgMag, a division of the Environmental Working Group (EWG), reported Sept. 15 on other contaminants in tap water consumers should be concerned about. "About 30% of the wells tested in Kewaunee County, Wis., were found to have unsafe levels of toxins, such as E. coli and nitrates, caused mainly by animal waste runoff from neighboring dairy factory farms," she wrote.
According to her report, many water bodies in the county are on the U.S. Environmental Protection Agency's (EPA) Impaired Waters list, meaning they are not suitable for fishing, swimming or drinking due to pollution. Farms and animal feeding operations are a major source of contamination. 
"Residents are also worried about the health effects of pollutants in the water coming out of their taps," Cassidy wrote. "A number of farm pollutants have serious health concerns." E. coli can cause gastrointestinal issues and fever, as well as respiratory illnesses, pneumonia and urinary tract infections, while nitrates may increase cancer risk. 
Levels of perfluoroalkyl substances (PFASs)—a class of industrial chemicals linked with cancer and other health problems—exceed federally recommended safety levels in public drinking water supplies for 6 million people in the U.S., according to a new study led by researchers from the Harvard T.H. Chan School of Public Health and John A. Paulson School of Engineering and Applied Sciences (SEAS).
"For many years, chemicals with unknown toxicities, such as PFASs, were allowed to be used and released to the environment, and we now have to face the severe consequences," said the study's lead author, Xindi Hu, a doctoral student in the environmental health department at the Harvard Chan School, SEAS and Graduate School of Arts and Sciences. "In addition, the actual number of people exposed may be even higher than our study found, because government data for levels of these compounds in drinking water is lacking for almost a third of the U.S. population—about 100 million people."
Although many manufacturers have stopped using PFASs, they were widely used in the past 60 years in industrial and commercial products. According to Hu, the chemicals "have been linked with cancer, hormone disruption, high cholesterol and obesity."
The study found PFASs at EPA's minimum reporting level in 194 out of 4,864 water supplies in 33 states, with 13 states—California, New Jersey, North Carolina, Alabama, Florida, Pennsylvania, Ohio, New York, Georgia, Minnesota, Arizona, Massachusetts and Illinois—accounting for 75%.
Algae Blooms & Cyanotoxins 
Algal blooms have significantly increased in recent years due to warmer-than-usual weather and, consequently, have raised concerns for the health of all Americans affected.
According to an Aug. 3 article in the Des Moines Register, "Water samples show traces of microcystin in the Des Moines Water Works treated drinking water, the public utility said in a release Wednesday, but residents are able to use and drink the water."
Microcystin is a toxin that can be produced by cyanobacteria, also known as blue-green algae. These algae proliferate in calm, warm waters with high levels of nutrients. 
EPA set a health advisory level for microcystin compounds detected in drinking water for at least 10 days. According to the article, as of Aug. 3 Des Moines Water Works had detected high levels for two days, but then the levels dipped back below the advisory level. Nonetheless, the utility opted to notify customers due to the potential health effects.
Chromium-6 Concerns Reignited
Evidence of chromium-6 in tap water continues to surface, but no federal regulation for the contaminant has been established (EPA currently only regulates total chromium). In September, EWG released a report on its research into the occurrence of chromium-6 in drinking water in the U.S. The report stated: "The EPA must take action to reduce chromium-6 contamination in American drinking water. Chromium-6, also known as hexavalent chromium, is a cancer-causing contaminant found in tap water in all 50 states."
According to EWG's analysis, chromium-6 was found in the water supplies of more than 200 million people at a level of more than 0.02 ppb—the public health recommendation set by the California Office of Environmental Health Hazard Assessment in 2014. (This recommendation is non-enforceable.) Chromium-6 is a possible carcinogen, and was included in EPA's Unregulated Contaminant Monitoring Rule 3 (UCMR3), which required water systems to collect testing data on contaminants not currently regulated under the Safe Drinking Water Act. Data from the UCMR3 were utilized by EWG in its analysis, and could be used in the development of federal regulations for the contaminant.
According to a Sept. 20 article in the Guardian, environmental advocate Erin Brockovich wrote in an email, "The water system in this country is overwhelmed and we aren't putting enough resources toward this essential resource. We simply can't continue to survive with toxic drinking water."
Perchlorate Problems
Perchlorate, a component of rocket fuel and fireworks that has been linked to impaired fetal and infant brain development and altered thyroid hormones in women, has been detected in 45 states and the District of Columbia. Although many emerging contaminants have shown up in tap water over the past 15 years, EPA has not set a new drinking water limit for chemical pollutants since 2000. 
In 2011, the Obama administration reversed a 2008 decision and set the agency on a course to set drinking water standards for perchlorate and 16 other chemicals, however, that list did not include hexavalent chromium, PFOA and PFOS, and 1,4-dioxane.
Addressing Contamination Problems
Social media has played a critical role in reporting local accounts of water quality issues. Environmental advocacy groups such as EWG, Food and Water Watch and the Natural Resources Defense Council, and individuals such as Brockovich, also have contributed to raising awareness amongst consumers about drinking water contamination issues.
Even though news headlines paint a dire picture, it is not all gloom and doom for water in the U.S.—as long as government and the private sector make water quality a top priority. 
The Rise Of Bottled Water 
Time and again, the easy fix to a contamination concern is for government agencies to hand out bottled water. Flint residents were given bottled water in the wake of its lead contamination crisis, as were residents of Sebring, Ohio, where lead was detected in water supplies in January. 
Unfortunately, even bottled water is not foolproof when it comes to contamination. In June 2015, Niagara recalled several of its brands due to possible E. coli contamination. 
According to an Aug. 22 Huffington Post report, "There is also a more potentially disturbing explanation for bottled water's surge in popularity ... Consumers are fearful of what's coming out of their taps, thanks to public health crises like the ongoing situation in Flint, and America's immense and underfunded water infrastructure challenges more broadly.
"Critics of the bottled water industry point out that these increased sales represent the privatization of something that has generally been recognized as a public good. There is an incredible amount of waste generated along the way, and plenty of thorny questions about the ethics of water sourcing come up."
 A recent survey conducted by engineering firm MWH Global posed the question, "How much more or less bottled water do you buy now, compared to a year ago?" The results showed that 42% of respondents have been buying more bottled water, while just 17% said they are buying less. Furthermore, 57% of parents responding to the survey said they are increasingly using bottled water. Though no analysis was offered, the survey results seem to indicate waning confidence in public water supplies.
Providing Protection
Treating residential tap water does not have to break the bank for consumers. Water filtration systems for homeowners and renters are available to provide protection against many well-known and emerging contaminants. Localized education and outreach are the keys to helping inform consumers of their options. 
These options can range from a filter pitcher for renters to a whole-house system for homeowners. Point-of-entry options to filter the water from every faucet to point-of-use products for specific filtration can include whole-house multi-tank water treatment systems, inline multi-stage under-sink water filtration systems to address specific contaminants, reverse osmosis water treatment systems, shower filters, faucet filters and countertop filters. 
It is critical for water treatment professionals to gather as much detail as possible about a home's water quality to determine the proper system for that application—there is no one-size-fits-all system. In rural areas where well water prevails, testing water prior to making a recommendation is more important than ever, as drought and other factors are causing changes in groundwater quantity and quality. 
Many manufacturers offer solutions for these contaminants, including Jacoby, the Carbon Co.; United Filters Intl.; Omnipure; Aries FilterWorks; Pentair; and 3M. 
Opportunities abound for the dealer who puts his or her customers' best interests first. A higher price does not necessarily constitute a better product, so it is wise to represent products from companies with proven track records.